Trekking in Mustang Region
Mustang is one of Nepal's most mysterious and least known kingdoms. The landscape of Mustang is a barren moonscape of eroded sandstone pillars and discontinuous moraine terraces, which together present a colorful mosaic made up principally of earthen reds, yellows and brown. It is relatively easy trekking along the permitted route to Lo Manthang, which lies in the very heart of Mustang. The trek to Mustang is through an almost treeless barren landscape. Strong winds generally howl across the area in the afternoon, generally subsiding at night. Being in the rain shadow of the Himalaya, Mustang has much less rain then the rest of Nepal.
Mustang trek lying in the rain shadow of the Himalayas is perhaps the last enclave of pristine Tibetan culture. Forbidden & isolated from the rest of the World it was able to evolve its own distinctive culture and traditional which is so rich & unique. Lo-Mustang, the capital is walled city ruled by religious king. Untouched by modern civilization, life in Mustang goes on as it has for centuries in unhurried pace.
As everywhere in the Himalayas, this area provides spectacular mountain scenery highlighted by Dhaulagiri at 8167 meters (26,795ft) and Annapurna I at 8091 meters (26,545ft). You will be surrounded by more than 35 mountains over 6000 meters (19,680ft) high. The elevation of the the trails rise from 2815 meters (9,233ft) to 3780 meters (12,398ft) above sea level.
available Trips for Trekking in Mustang Region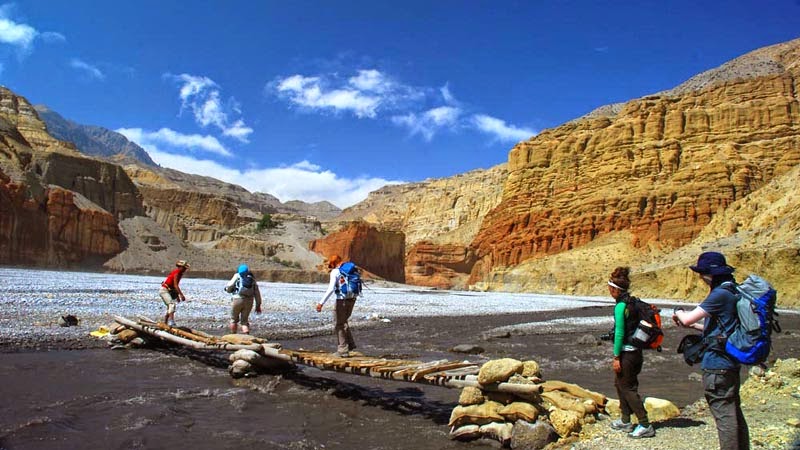 Upper Mustang Trek
Upper Mustang trek or Lo- Manthang trekking takes us to off the beaten path of mustang valley. It is  greatly influenced by the...