Which One is Right for You: Annapurna or Everest Base Camp Trek?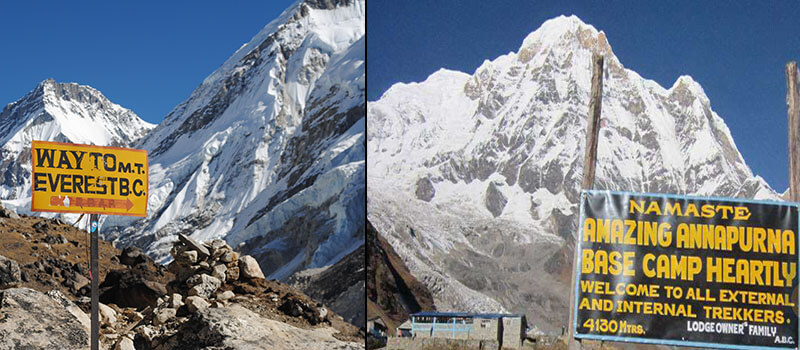 Annapurna or Everest Base Camp Trek? Which trek to choose for your upcoming trekking holiday in Nepal? It is one of the most common query among travel and and trekking enthusiasts. If you love hiking, and trekking, exploring is your passion then I will highly recommend to try both Annapurna and Everest base camp treks as both are most popular trekking trips in the planet. However, if your goal to step at base of world's highest mountain at above 5000 meters altitudes, excursion to Kalapthher offering grand views of snow capped mountains along with Sherpa cultural exploration at lower altitudes, then no doubt choose Everest base camp trek. But if you prefer diversity in culture, nature and less altitude than EBC then you would surely choose ABC or Annapurna Base Camp.
About Getting There
At Everest Base Camp
Everest was and is on the priority list of every mountaineer and it was never successfully climbed until 1953 when expedition team including Sir Edmund Hillary and Tenjing Norgay Sherpa first put their feet on top of the world at 8848 meters above sea level, the highest anyone can ever step on earth. During mid fifties there were no roads built, no Lukla airstrip (also known as Tenjing Hillary airport to honor their efforts in making this airstrip); all of them made a walk from Kathmandu to Jiri, then seven days of trekking to arrive at Lukla, where in present day we can reach in just 15 mins of flight from Kathmandu. Our Everest base camp trekking begins from Lukla, then all the way through popular Sherpa village of Namche Bazar, Tengboche, Dingboche, Lobuche, Gorakshep and finally at EBC. There are also other off the beaten trails through Gokyo valley which you might love to discover passing through Cho La pass before arriving at EBC.
At Annapurna Base Camp
It is truly a blessing to start any tour from beautiful scenic lake city of Pokhara. Pokhara can be reached by short flight or tourist bus. Capturing an enthralling views of great Himalayan range, trek through culturally diversified Magar, Gurung and Brahmin villages of Ghandruk, Dhampus, Chhomrong and ascend towards Machhapucre base camp before stepping at heavenly Annapurna base camp at 4130m above sea level.
About Himalayan Views, Scenery and Landscapes
During Everest Base Camp
Everest Base Camp takes you nearest possible distance, actually at base of world's highest mountain. So get ready to view the never seen before grandest Himalayas infront of you while enjoying high altitude landscape views, terrains and beautiful forests with waterfall and suspension bridge over river streams at lower region. Best views are seen from Kalapathhar during Everest base camp trek. Also if you are on three pass trek, then views from top of Gokyo ri is equally mesmerizing.
During Annapurna Base Camp
Annapurna Base Camp trek offers quite different perspective to the Himalayan views. You will see amazing distant views of Machhapuchre and Annapurnas from the starting point of your trek at Pokhara. And the views get extraordinarily beautiful and grand as you get closer to the mountains. Upon arrival at Annapurna Base Camp, you will be surrounded by Himalayas from 360 degrees which you might not have ever experienced before. Also enjoy great trekking experience through beautiful rhododendron forests during spring season.
About Local Cultures and Communities
Around Everest Region
Everest region is the home to Sherpa community. From lower Solukhumbu villages to higher altitude terrains, you will get chance to explore boundless opportunities to visit colorful monasteries, experience daily rituals, out your hands on prayer wheels, visit museums, chortens, memorials and lots of other places that highlights and gives you insights about Sherpa communities and their local culture, along with their heroic stories of mountaineering.
Around Annapurna Region
Trekking at Annapurna Region is a great way to explore the diversity in nature and culture. We explore culturally rich Hinduism, Buddhism Gurung and Magar villages specially at lower villages. If you love diversity and explore, then join Annapurna Trekking.
Therefore, as a conclusion, among Annapurna and Everest choose the best trekking in Nepal trips that suits you. And Nepal is a country that you will surely visit again to immerse in its natural beauty and cultural richness time and again.