Welcome to Annapurna Base Camp with Euro-Asia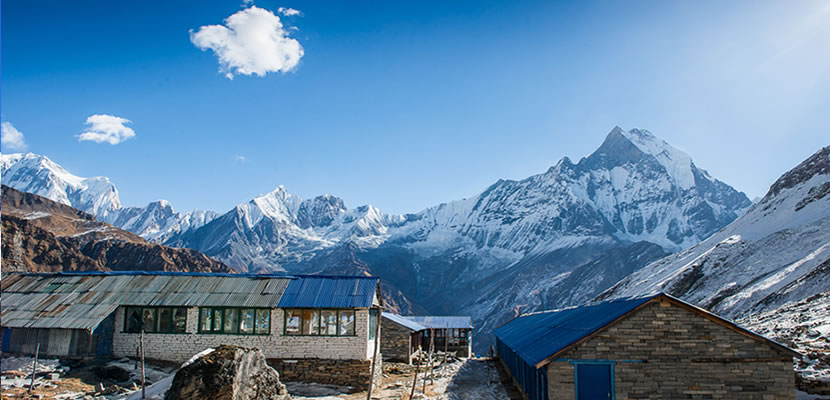 Next time, go for Annapurna Base Camp Trek in Nepal with Euro-Asia Travel and Tours. Annapurna base camp trek offers the best trekking experience in Nepal with combination of diversified topographies, cultures, traditions, floras, faunas with very close views of Annapurna Himalayan ranges. And of course step at base camp of Mt. Annapurna, the tenth highest peak in the world which marks itself as one of the most popular trekking adventures at Annapurna region.
Annapurna Base Camp Trek starts from scenic lake city of Pokhara, slowly ascends through beautiful landscapes, terraced fields, and magical rhododendron forests that blossom during spring and finally takes you close to the mighty Annapurna Himalayas. Along our way, we also experience popular Ghorepani Poonhill trek which offers mind blowing panoramic views of Himalayas during sunrise. Interacting with local Gurung inhabitants gives us an idea about their local culture and traditions. One notable thing about them is that if you see stone paved roads or steps then, you can assume its hometown of Gurung community. In this way, leaving behing Chhomrong and Macchapuchre Base Camp, we finally step at Annapurna Base Camp, a true heaven on earth. You will be surrounded by Himalayas from all sides and I am sure you will start missing the place as soon as you plan to leave.
We, Euro-Asia Travel and Tours would like to be your travel companion during Annapurna Base Camp Trek. With our years of experience in tourism industry, our professional trekking leaders and whole team would put our best efforts to make your trip a worthwhile memory of a lifetime.